---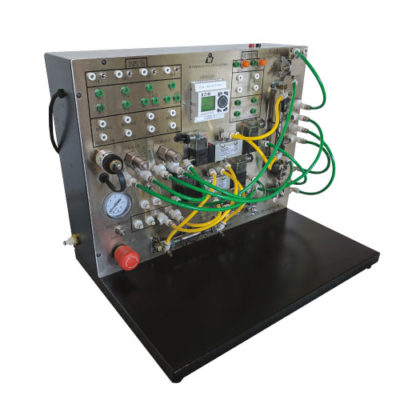 Electro-Pneumatic Training System w/ Faults
TII
SKU: EP-250F
Regular price $4,695.00
The EP250 is a comprehensive training system for electronic control of pneumatic technology. This training system offers true electrical control and logic of pneumatic technology in a replicated manufacturing press/stamping and vise/clamping environment.
Electronic control is done through use of a Programmable Smart Relay Micro Controller. System components and hardware are mounted in a configuration to replicate manufacturing operations. Like a PLC, the Smart Relay allows the user to program and control up to eight inputs and four outputs simultaneously.
However, unlike a PLC, the simplified logic programming software that is included with the Smart Relay requires no previous PLC programming knowledge. This allows the student to focus on the learning objectives and controlling the pneumatic elements without having to study PLC programming first.
The EP250's curriculum is designed to cover the background, use and application of electronic control of pneumatic components in an application-oriented setting. Our training system is accompanied by an instructor's guide as well as a student manual. This manual is a comprehensive student resource, featuring detailed exercises and testing materials.
Flexible system design allows for interfacing to PLCs and other external devices
Electronic control done through a Smart Relay PLC
Smart Relay allows users to program and control up to eight inputs and four outputs simultaneously
System Specifications
Built-in 24 BDC power supply
Universal banana jack I/O sockets
Mounted upright on a metal frame with stainless steel panel
Convenient interfacing with other TII trainers
Various application-oriented hardware can be attached to the workspace
All front panel features are silkscreened for easy identification
A series of jacks are located throughout the panel for easy electrical connecting
Interfacing using banana jack patch cords
Flexible design allows user to interface with other 24 VDC-enabled external devices or PLC
A compressed air source is required for system operation (not included)
Shipping Information
Dimensions: 20.5" x 15" x 14"
Shipping Weight: 40 lbs
Controller Specifications
Programming
Keypad and display
Windows-based software
Voltage
Line in: 115 VAC, 60 HZ
Optional: 230 VAC, 50 HZ
Inputs/Outputs
Digital Input: 6 Inputs – 0 to 24 VDC
Analog Input: 2 Inputs – 0 to 10 VDC
Output: 4 Outputs – Relay
Memory
Size: 164 Instruction words
Type: Built-in EEPROM
Other items included in the Base Unit:
Built-in 2.4 AMP 24 VDC power supply for standalone operation
Series of jacks and banana jack patch cords for easy electrical interconnecting of various system elements
Two air piloted double-ended solenoid directional control valves

Air pilots assist the shifting of the solenoid valve to permit low system air pressure operation

Two double acting pneumatic cylinders with reed switches and flow control valves on each end of the cylinder

Manually operated flow control valves are used for speed control adjustment of cylinder rod extension and retraction
Reed switches provide electrical feedback of cylinder rod motion and location

Four pneumatically operated limit switches for system logic activities
Emergency stop button for emergency system shutdown
System pressure regulator with gauge for precise system air control
Adjustable pressure switch with electrical controls
Four switches and two lights for interface to the Smart Relay Micro Controller
Three supplemental valves for auxiliary action and control

Two pulse valves
One toggle valves

Series of banana jacks and patch cords for electrically interconnecting various system elements
The cylinders are positioned on the panel to replicate a pneumatic vise / clamping operation and a pneumatic press / stamping operation
All pneumatic hoses have been pre-plumbed and connected for system operation