---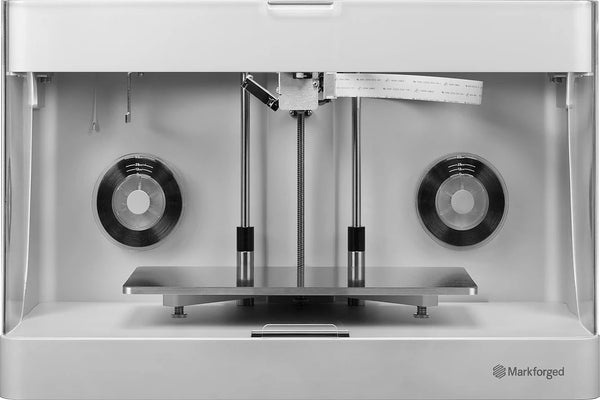 Sale
Markforged Mark Two Onyx (Gen 2)
Markforged
SKU: F-PR-2027
Sale price $19,990.00 Regular price $19,999.00
The Mark Two (Onyx) combines Markforged's unique continuous carbon fiber reinforcement with workhorse reliability for the strongest, most versatile parts in our portfolio. It is the only printer in the industry that enables you to go from CAD to beautiful, end-use strong parts in hours.
With your choice of reinforcement and plastics, remove the time, hassle and design iterations and put your parts to use right off the printer engineered with the right material for any job.
Features of the Mark Two (Onyx) include:
High-Strength Printing - By reinforcing your parts with composite fiber while 3D printing them, The Mark Two (Onyx) achieves unparalleled strength, stiffness and durability in its printed parts.
Range of Materials - In addition to printing Nylon, the Mark Two (Onyx) prints materials that no other 3D printer can, like Carbon Fiber, Fiberglass and Kevlar.
Easy-To-Use - Markforged built their own 3D printing software that comes with The Mark Two (Onyx). Printing a part to be flexible or strong is easy and intuitive.
Touchscreen Interface - The Mark Two (Onyx) has a built in touchscreen that makes it easy to connect to wifi, start prints and manage your printer.
For more information about Markforged, visit our website.