---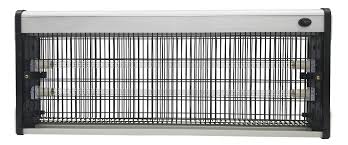 Suspended/Wall Mounted UVC Sterilizer
DEPCO
SKU: 10991
Regular price $275.00
This product is only available to customers in Kentucky!
Features
Clinically proven to eliminate 99.9% of all viruses, bacteria, fungi, mold, yeast, algae, amoebas, and other germs and allergens within seconds of 253.7 nm UVC exposure.
Can be programmed and set via remote control.
A motion sensor deactivates the lamp when it detects movement within 16 feet.*
Contact-free disinfection reduces the chance of human error and cross-contamination.
Hypoallergenic sanitizing does not leave irritants or toxic chemicals behind.
Reduces the need to buy and handle corrosive cleaners. (Does not replace soap/water)
*  The sensor automatically stops the UV light cycle if motion is detected within 16 feet. Once the area is clear of heat and movement, then the cycle will resume. It is best to run this device after business hours as the last person is leaving.
Specifications
Size: 25.6"(L) x 10.4"(W) x 3"(D) 4.3 lbs
Power: 40W
Voltage: AC110 - 130V
UV Strength: ≥150 µW/cm2 (at 3.5 ft)
Effective Range: ~550 ft2
UVC Wavelength: 253.7 nm
UVC Lamp: Mercury Quartz
Bonus Features: Motion Detector, Remote 
Bulb Lifespan: ≥8,000 hours
Sensor Range: 32 ft
For more information about UVC light sterilization, visit our website.